Pokemon Battle Styles is the first big set to release after Vivid Voltage in March 2021. This new set is themed to Pokémon Sword & Shield Isle of Armor Expansion, and featured Urshifu, the legendary Pokemon. According to the official Pokemon website, the new release has the following sealed products:
There are also other products which carries the Battle Styles booster packs in this release:
Much like Urshifu's styles in the Isle of Armor expansion, Single Strike cards have a tiny bit of red and deliver single, powerful attacks with the ability to knock out opponents in one shot. Meanwhile, Rapid Strike cards feature blue decoration with attacks that are a bit sneakier and more technical and let them attack their opponents when they least expect it. These styles are also available as Trainer and Energy cards, which assist Pokémon of the corresponding style to allow you to build decks centered around Single Strike or Rapid Strike.
Check out Foundry Game Room for the latest in Pokemon Trading Cards
Battle Styles Elite Trainer Box
Over the years, ETB or Elite Trainer Boxes have definitely become sought after collectible items for collectors of Pokemon. Elite Trainer Box has great design on the cover, and they service as a great time capture to show off all the great cards and products inside of every single set. Collecting a ETB from each set is now a very common practice for the collectors. Furthermore, People enjoy stacking Elite Trainer Box in their collection shelves.
The Battle Styles Elite Trainer Box comes in two flavors:
Red Urshifu Single Strike Version
Blue Urshifu Rapid Strike Version
The main difference between the two versions is just aesthetic design of the box, the dice, the sleeves, and the guide book. Both red or blue will make a perfectly fine choice.
A lot of the eBay and Amazon sellers are offering customers to buy them as random single unit. I would kind of recommend against that arrangement because it does not really give you much control over which color you will get. Foundry Game Room offers the ETB in pair so you can purchase both the ETBs as a complete set.
This is a nice video on ETB from Jake as he cracked over the Elite Trainer Box sets
If you are getting the ETBs as a collectible and don't plan on opening them, we have a great solution to help you keep the ETB safe and sound! Introducing our line of Seal Product Protectors. Foundry Game Room offers a great acrylic case sized to perfectly fit an Elite Trainer Box. The product is constructed with clear transparent acrylic that are any where from 2mm to 5mm in thickness. The box opens up at the top and the the top lid is held sealed with 4 strong rare earth magnet. Overall, the box seem to hold up to our tests so far and we are pretty pleased with it. Check it out if you are in the market for something to protect your investment.
Card Pulls
Cracking booster packs is part of the treasured experience for all Pokemon collectors. We bet it is very hard to keep our hands off those booster boxes and keep them sealed. We don't blame you! It is just so awesome to crack open one of the special foil cards. Here are a list of chaser cards that we enjoy from this current set: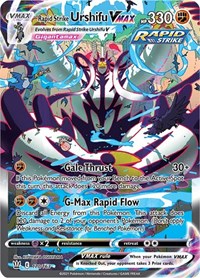 Which card are you chasing after? How many packs do you need to crack? All those are very important questions for the dedicated Pokemon collector. But feared not! The nice folks over at cardzard.com has published the pull rate for each types of cards in a nice table (Update Apr 2021)
This a great table published by card determined from opening 1405 packs from Build & Battle + Booster Boxes
| | |
| --- | --- |
| Rarity | Percentage |
| Holo V | 12.099% |
| Holo Vmax | 4.34% |
| Full Art V | 2.06% |
| Full Art Trainer | 1.068% |
| Rainbow | 0.925% |
| Golden | 0.854% |
| Alt Art V | 0.498% |
| Art Art VMax | 0.142% |
| Sleeping Tyranitar | 0.124% |
Which sealed products from Battle Styles offers the best pull rate for you? How many have you cracked so far? Did you pick up some nice pulls? You can share your pulls with us over at our Discord server
Drama
Pokemon has been has a hot collectible items since Vivid Voltage. We have sold over thousands of Vivid Voltage products. Even though Pokemon Co has promised to ship us more products in 2 to 3 waves, we still didn't have enough to fulfill the demand from our customers.
The latest drama for our hobby was some nut jobs pulling guns on each other at a Target in Milwaukee Area. We thought there was a break in the whole violence regarding collectables since there has been a pause in the news cycle. Yet violence of this kind can be traced back to the days people would get shot over a pair of Air Jordan's. Even light up shoes used to call the attention of fashion forward criminals. Now it seems nostalgia and perceived value of Pokémon cards have become the latest trend when it comes to the criminal interests.
There have also been reports of fights breaking out in stores over Pokémon trading cards. Card collecting is a passion of many that seem to be willing to go above and beyond to make sure they have the latest trading booster packs available; with Covid restrictions loosening, and the desire to go out just to get some shopping done make it seem like a great time to get your cards. You might want to avoid that particular drama. A pack a cards is definitely now worth a fist fight, or any type of violence.
Foundry Game Room has a great stock of cards, you can get you decks and boosters quickly from the comfort of your own home. Check out Foundry Game Room for the latest in Pokemon Trading Cards.